Classic Champion Thoroughbred Profile® Consistently Beats Brisnet Prime Power As Handicapping Tool
The Classic Champion Thoroughbred Profile® software continues to show its prowess as a powerful breeding, sales, racing and handicapping analytical tool that produces positive results and equine champions.
Blog followers that made a two dollar wager on the exotics with my 2018 Florida Derby (G1) picks and honorable mention, Hofburg, could have potentially cashed in for a total of $823.20 with the exacta paying $50.80, the trifecta paid $309.40 and the superfecta paid $463.00.
Here's a look at the Classic Champion Thoroughbred Profile® ranking and finish of the horses entered in the Florida Derby (G1):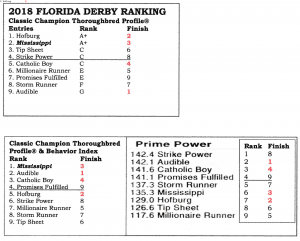 In the first chart, Hofburg is ranked first with an A+ Classic Champion Thoroughbred Profile® and he finished second. Mississippi is ranked second with an A+ profile and he finished third. Catholic Boy is ranked fifth with C profile and he finished fourth. Audible is ranked ninth with a low G profile and he finished first.
In addition to the Classic Champion Thoroughbred Profile®, which is a measurement of the breeding influences found in the five-generation pedigree, we also have developed a Behavior Index which allows us to move horses up or down in ranking.
In the second chart, the Behavior Index of Catholic Boy and Promises Fulfilled potentially moved them into the top four while the Behavior Index of Tip Sheet and Strike Power moved them down in ranking.
Hofburg was the unknown factor in this race. His breeding was best of all, but his Behavior Index potentially ranked him out of the top four. However, in my blog, I wrote: "Hofburg has the breeding to be competitive and if he lives up to his breeding, he could be a factor in the exotics." And, that is why I made him an honorable mention.
As you can see in the analysis above, the Classic Champion Thoroughbred Profile® and Behavior Index shows horse owners and trainers the best race distance that their horse will have the most success, be it in sprint racing, middle distance or routing. The profile can help owners and trainers spot their horses in stakes races where they will have success by analyzing the profiles of other horses entered in the race.
From foal to finish line™ the Classic Champion Thoroughbred Profile® is a proven analytical tool you need for breeding, purchasing at auction and racing equine champions: http://bit.ly/2E99liF.
For a free initial consultation to evaluate how Classic Champion Thoroughbreds can help you achieve your goals, dreams, please contact us at our website or at our toll-free number: (844) 346-2223.